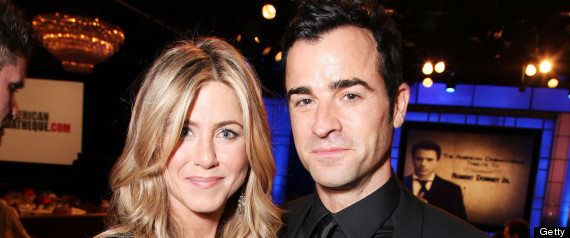 After dating for just over a year, Theroux's rep confirmed to People that the pair plan to walk down the aisle: "Justin Theroux had an amazing birthday on Friday, receiving an extraordinary gift when his girlfriend, Jennifer Aniston, accepted his proposal of marriage."
Aniston's rep also confirmed to The Huffington Post that she is, in fact, engaged.
The couple began dating in May 2011, before going on to co-star in the 2012 comedy, "Wanderlust." Since then, Aniston and Theroux have been almost inseparable --they've even begun to look like one another as their relationship has evolved.
Earlier this month, the pair were spotted vacationing in Hawaii, just days before Theroux, 41, would propose on August 10.
Aniston, 43, was previously married to Brad Pitt. This will be Theroux's first marriage.
News of Aniston and Theroux's engagement comes on the heels of Friday's speculation that her ex and Angelina Jolie would be getting married this weekend at the couple's French chateau, but almost as quickly as they started, the rumors were laid to rest.
P/S: So happy for you Jennifer Aniston! :)